A French Jet-Ski champion and entrepreneur invented the flyboard in 2011. Popularity spread over the Internet and the company rapidly expanded to lake and ocean communities. People can "fly" at heights of 30 feet in the air and also sail through water, both using thrust from a Jet-Ski. Besides feeling weightless, riders also have a unique perspective. "You just get up there and enjoy the ride," Vanecek says.
You almost have to watch a flyboard in action to understand it. Without the hoses, a flyboard looks like boots attached to a snowboard. A hose extends from the base of the board and attaches to a personal watercraft. The thrust from the Jet Ski propels the rider out of the water in whatever direction the rider chooses.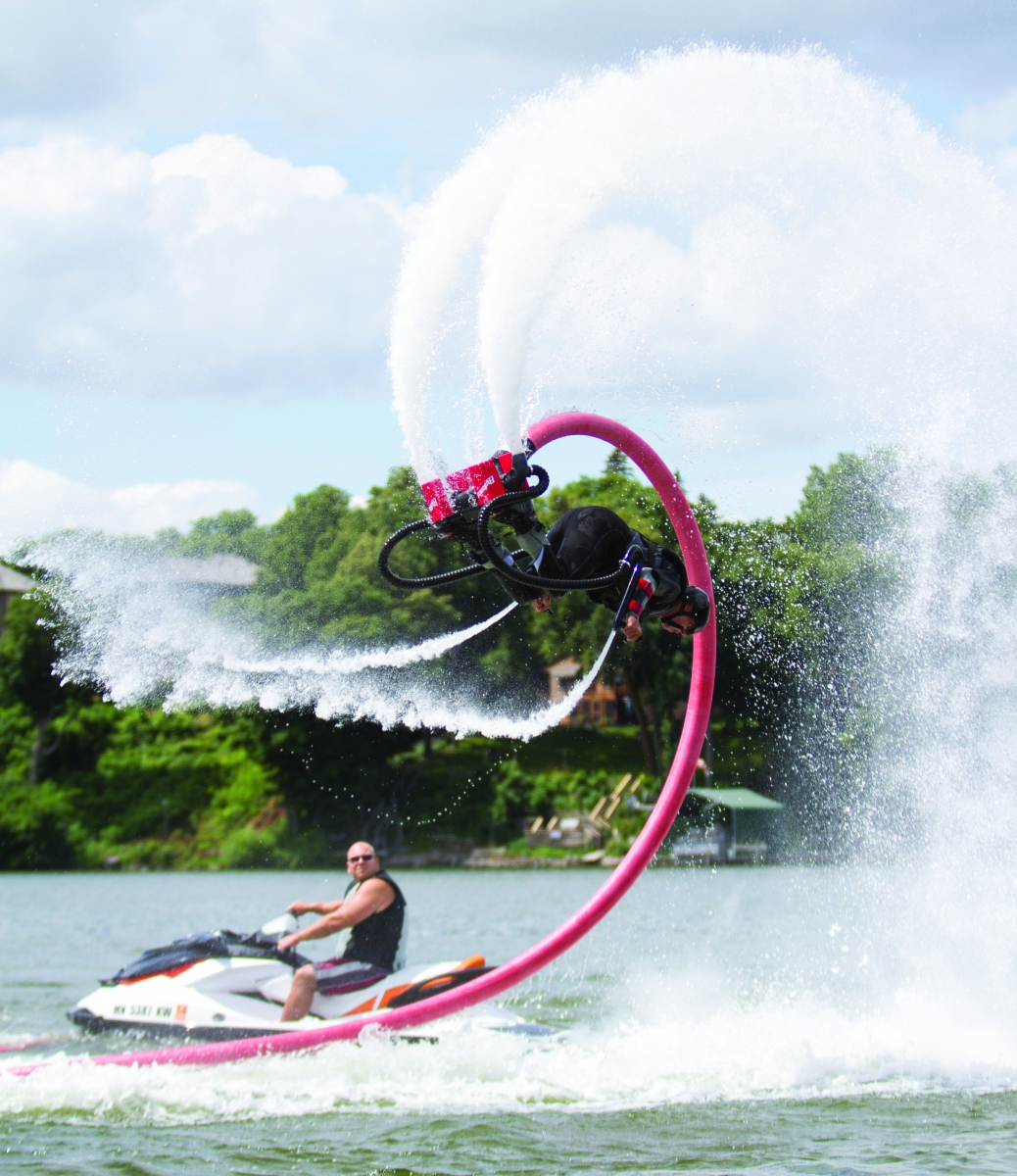 The rider tilts her feet to control movement and a hose attaches to each of the rider's arms so she can balance, much as you would with ski poles. "It's an interesting sensation," Vanecek says. "You sit in the water like you are sitting on a chair. Once the Jet-Ski driver hits the gas or throttle, you have a gentle pull out of the water and you are hovering over the water."
The man driving the Jet-Ski—and the flyboard rentals—on Lake Minnetonka is Rodney Jansen. He heard about flyboards through a friend and saw them in action online. After a company representative visited Jansen and let him experience the ride, he was sold. "I thought it was the most fun I've ever had," Jansen says. "I thought, 'I'm getting one of these no matter what.'"
Since Jansen had experience renting Jet Skis on Lake Minnetonka, introducing flyboards seemed like a good idea. "I grew up [here] and it's a very popular lake," says Jansen, "so I know [the sport is] just going to explode. Everyone who sees it says, 'I want to do it.' " Jansen says most of the public hasn't heard of flyboards, so he's used to stares when he's used them around the lake. "People see it and just start talking about it," he says. "There's nothing like this that's been invented."
Minnesota Flyboard Rentals, Jansen's company, currently has two flyboard units that he rents for $299 an hour. He offers a series of packages ranging from a half-hour rental to a full day. With those packages, Jansen provides instruction and drives the Jet-Ski.
Jansen says flyboards are very safe. "In a rental, I'd be on the Jet-Ski running the throttle. I'm going to get them a foot out of the water, let them get their balance and slowly raise them up," Jansen says. "They are fully in control of everything they do except they aren't running the throttle. If they get too close to the Jet-Ski, I can shut them down." Flyboard riders must be at least 18 years old to ride and must wear a personal floatation device.
Jansen also rents out the flyboard for lake parties, which is what Vanecek plans to do for her son's 21st birthday. "He doesn't even know it yet," she says. "It's just a super-fun ride." Vanecek says it takes about a half-hour to get the hang of the ride, and then you are soaring.
Flyboards seemed like just the kind of thing that Ryan Dobey of Waverly wanted to try. Like most first-time riders, Dobey saw flyboards online. Though people said he was crazy to try it and he'd get hurt, Dobey says, "by far, it's one of the lower-key sports." Dobey says the zero gravity aspect reminded him of riding the Power Tower at Valleyfair, but without a seat. "You shoot straight into the air," he says. "And don't let it trick you. It's not as scary as it looks."
Brandon Tolliver's story starts 10 years ago, when he and his college friends watched several YouTube videos that inspired them to try surfing a boat's wake on Lake Minnetonka.
While that may sound like a recipe for disaster, it has led to anything but. Today, Tolliver is a professional athlete, co-owner of Surf Tonka, and—as I experienced first-hand—a fantastic teacher.